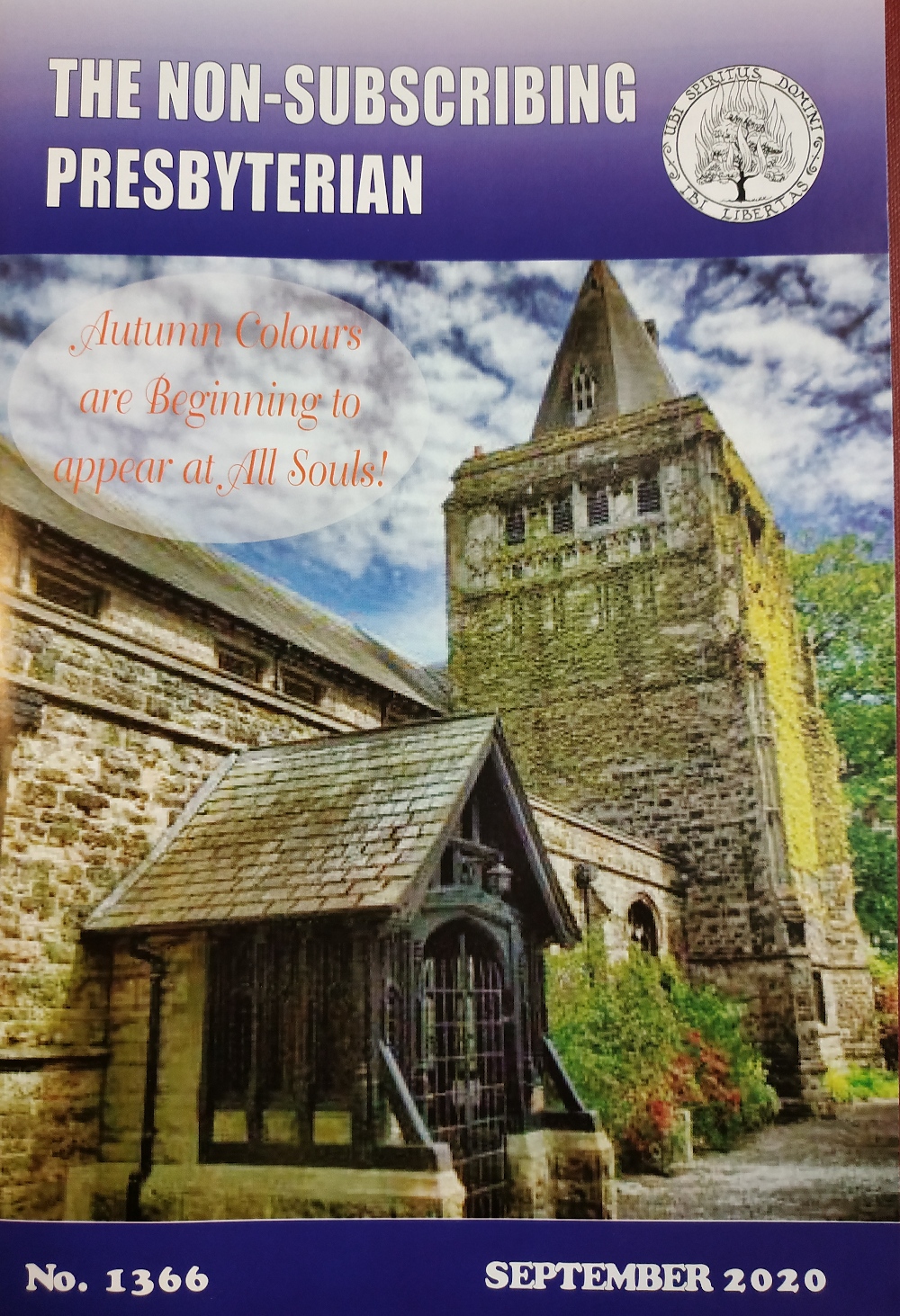 Dear Friends
The SEPTEMBER edition of the Non-Subsribing Presbyterian Magazine is available. The Table of Contents appears below.
If you are interested in subscribing to receive the magazine, please be in contact with Rev. Heather Walker at This email address is being protected from spambots. You need JavaScript enabled to view it.
COVER PHOTO: Our Belfast All Souls Church building is situated on Elmwood Avenue – voted 'The Prettiest Street in Belfast' by the travel website 'Ireland Before You Die'. They rightfully pointed out tha it is at it's best in Autumn.
Contents
Editorial - 2
Too much space, not enough time – 3
News of the Churches – 5
The Hymns we sang together No 7 -9
Social Services
A selection of virtual worship and inspiration from our Churches' Social Media sites.
Time for a story with Rev. Sue Steers: Navigation – 16
Children's Corner – 17
Online Ministry Links and Addresses – 18
EDITORIAL - By Rev. Heather Walker
It has been lovely to receive more 'news from the churches' as services begin to get underway in many of our churches. Most of the photos attached are also available on the Facebook pages of the denomination or individual congregations, should you wish to see them in colour. There are a great array of masks on display!
As we come into September we also think of schools starting back, and those beginning a new school, or sending a child or grandchild to nursery for the first time. This is always a stressful event, even at the best of times; and this is a particularly nerve-wracking year. Pray for neighbours, friends and family in this situation: for protection, and the peace of God which passes understanding.
We also remember all the events and activities that should have been beginning and are still on hold. Choirs, bowling leagues, prayer groups, parent-and-toddler mornings; things which seem small in the grand scheme of things, yet were central to the social and emotional wellbeing of many. We pray for those feeling lonely and disconnected from their world.
It is perhaps a little like the disciples between the ascension and the coming of the Spirit at Pentecost: life seems uncertain, we question our actions and the directions given to us. We struggle to adapt to a new way of doing things - sanitising and donning masks before entering a shop, elbow-bumping instead of shaking hands - we wonder if we are interpreting the instructions given to us by our leader correctly (do we wait in Jerusalem for the Comforter, or do we 'go into all the world?'). Yet as time passed, they became stronger and more confident, until, with the dynamic strength of the comforter they were finding the balance between public engagement and peer-group 'bubbling'. They continued to learn and grow, evolve and adapt to new and unforeseen challenges; rooting themselves in their scriptures and their personal knowledge of Jesus' character and actions. If we can model ourselves on that group of faithful disciples, whose stories stretch across the gospels and Acts, and whose wisdom, experience and vision fills the remaining sections of our New Testament; perhaps we too can negotiate these uncharted waters, acknowledging that we are 'learning as we go', but following the Teacher and Comforter of us all.
Yours in Christ,
Heather.